5 Reasons Companies Should Embrace Landing Pages for PR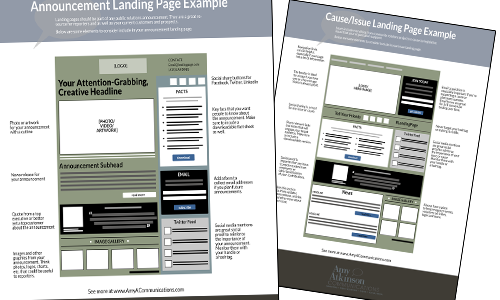 I've been practicing public relations for two decades.
One of my first jobs as an intern was to program the fax machine in the City of Richmond Public Information Office for the daily newspaper, key weekly papers, the three television stations and the radio stations that had news departments. I had to fax content if you wanted it out quickly to all media.
As I write this, I can't remember the last timed I faxed something to a reporter.
As reporter outreach goes online through email and social media, it's important for public relations to embrace landing pages for announcements, causes, issues and even crises. Be sure your PR/communications department or your PR firm understands the importance of landing pages and how to use them.
In this post, I offer my rationale for this change and some landing page templates you use.
Five reasons why landing pages matter
Today's news release is still the most visible element of media relations, but it represents only a small portion of the information that you PR departments need to communicate.
Here are five reasons for you to add landing pages to your PR toolbox:
Depth of message
Shareability

Resource for reporters

SEO

Measurability
Let's explore each of them.
1) Depth of message
It's nearly impossible to communicate everything in a news release or announcement.
There are always other layers of information that can influence your target audience.
Landing pages are technically limitless. You can:
Expand upon your key messages
Add video from key executives or, better yet, key customers or influencers
Link to other relevant articles, either your own or those that support your point of view
Include relevant visuals, such as photos, graphics, charts and more
Those are just a few examples off the top of my mind.
Best of all, you can update the content as needed or as the issue evolves. This could include actual media coverage or more executive commentary.
Landing pages are organic and don't have the short shelf life of a news release.
2) Shareability
In today's marketing, shareability on social media is a must.
Landing pages are innately shareable through share buttons or by posting links to social media.
What I like most is that you can share landing pages multiple times over a period of months. By contrast, a news release has a short shelf life that expires after a few days. You look a little crazy sharing a news release two weeks later, but it's okay to share a landing page two weeks later as an "in case you missed it" post, especially if you have some updates.
Landing pages also make great fodder for email and customer newsletters.
3) Resource for reporters
I can easily see a landing page replacing the media kit or, at minimum, becoming the online version of the media kit.
Reporters could access research reports, executive quotes, graphics, logos, etc. as material for their stories. It's far better to put this material on a website than to include it with your initial pitch.
Most importantly, reporters could link from their story to your landing page. That's some SEO gold.
4) SEO
Speaking of SEO, Google put the kibosh on news releases in 2013 because too many people were using them for SEO spam.
A landing page, especially one that develops some authority, can live on forever and provide great SEO value to your website.
5) Measurability
PR pros have struggled over the years with measurability. I've been at it for 20 years and really can't tell you the exact value of a news release or a news story.
You can tell with certainty the performance of a landing page through Google Analytics or any other analytics software, including:
How many people visited it
How they arrived at the landing page
Links they clicked
Whether or not they converted, if you're using goals
And much more
It's fairly easy to roll these metrics into a nice report for your client, your boss or board along with the clip report that you create.
Landing pages are not easy
Good landing pages demand a number of skills. They require some knowledge of:
Copywriting
Design
User experience
Calls to action
Form design
You don't have to master each skill, but you do need to understand how these pieces work together. Make sure your PR firm has the skills to help you execute landing pages as part of your overall PR strategy.
Landing page templates to consider
The type of landing page you need depends on the goal of you PR project.
For an announcement, your goals are probably the best media coverage possible as well as customer understanding. In this case, you want to provide easy access to the news release, photos, graphics, and facts that add detail to the announcement. Collecting email addresses is a secondary goal.
For a cause or an issue, your goals are more likely engagement, involvement and understanding. In these cases, you likely want to collect email addresses or create ways for people to demonstrate their support.
Landing page template for PR announcements
The first example is a landing page for announcement, such as a new product release or an acquisition. Click on the image below to see it full size.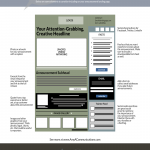 A few thoughts about announcement landing pages:
The headline is important as it is with a news release.
The goal is sharing as much information about the announcement as possible.
Make sure to include contact information in the top right to make it easy for reporters to contact you.
Always incorporate social sharing and social proof to show the acceptance of your announcement.
Landing page template for PR causes and issues
The second template is for community relations projects, causes and issues for which your PR department is managing communications. Click on the image for a full-sized image.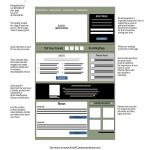 Some thoughts about cause and issue landing pages:
Acquiring email address or getting people to join the cause is much more important. The email form has moved to the top left of the page.
These pages could become very long. Consider adding navigation links at the top of the page to help visitors find information.
Cause and issues lend themselves to hashtags. Make sure it is prominent on the page.
Similarly, you want to emphasize social sharing by those who share your commitment. Add a call to action with social sharing.
Additional Resources
Most blogs and websites about landing pages focus on conversion optimization. There are still some good lessons that you can learn from each. Here are a few of my favorite resources about landing pages:
Filed Under: Marketing