Accreditation in Public Relations Celebrates 50th Anniversary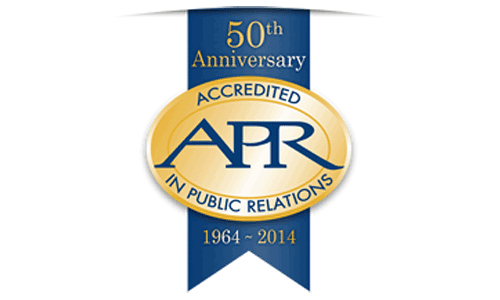 This year, the Public Relations Society of America is celebrating the 50th anniversary of Accreditation in Public Relations (APR), the largest professional accreditation for the public relations industry. April is also Accreditation Month.
15 years ago, Brannan and I earned our APR. The process included months of studying flashcards and a three-part certification that required:
An exam about the history of public relations, communication theory, ethics, key figures in public relations and much more
Writing a public relations plan from scratch during an all-day session (as I remember, it was a nice Saturday, and Brannan was upset he couldn\'t play golf)
An oral exam with other APRs in the Richmond area where we were living at the time
It was a difficult but valuable process.
Why Accreditation matters?
The APR credential has emerged as an industry standard and long-standing mark of excellence. Only about 5,000 public relations professionals have earned APR status.
Every three years, everyone with Accreditation has to demonstrate continuous learning, professional involvement in PRSA and community involvement.
More than anything, it\'s one sign that you are working with an experienced public relations professional committed to the industry, ethical marketing and personal growth. Of course, a PR practitioner\'s successful track record and client relationships are critical when selecting a firm.
Read more about accreditation on the PRSA website.
Filed Under: Public Relations