Think Programming for Social Media Content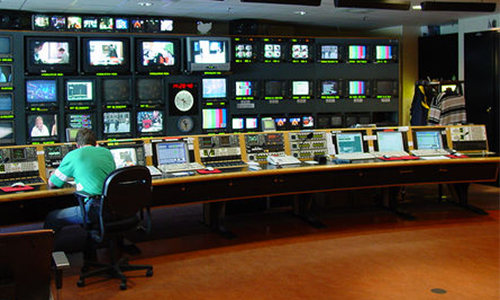 It would be fun to own a cable system. You could pick the networks you wanted and customize the channel lineup so that all your favorites were close together.
And then you realize that it\'s not about you. It\'s about creating a system that attracts a diverse base of consumers so that you can make more money through subscriptions and advertising sales.
I doubt you are a cable system owner, but you the same principles can help your company get the most from social media. 
Know Your Goal
A primary goal of social media is to build an audience for your business.
Think about how you watch cable TV. You go to Fox News or CNN for news, ESPN for sports, AMC for \"Mad Men\" and so on. I easily watch 10 different networks depending on the content I want at the time. We\'ll come back to channels in a minute.
Now, I watch all that content on Comcast because it is my cable provider. Comcast\'s business is based on increasing its number of overall subscribers by offering the diversity of content that viewers want.
My goal is to grow my social media audience the same way that Comcast grows its subscriber base.
The true power of social media is sharing. My audience grows fastest when others share my content with their friends and followers.
You also have to know your audience well. I will go into that much more in a later post.
Choose Your Networks
The first step is to choose networks that your audience wants. The rule of thumb is always be where your audience is.
As with television, there is a pecking order to social media. You have the big four television networks in ABC, CBS, Fox and NBC. In social media, the major networks are:
Facebook
Twitter
LinkedIn
Google+
YouTube
The first four are a given for most businesses. YouTube makes the list because it is the largest video network online and an important part of social media for any company using video in its marketing.
Caveat #1: I\'m talking about business pages for all these networks — not my personal pages. I  use Facebook a lot more for personal social media than any of the other major networks. Other people favor Twitter or LinkedIn. That depends on your personal preferences.
Caveat #2: Everything I am talking about applies if you are using social media to build a personal business brand. If so, think of yourself like a business.
Once you know your major networks, it\'s time to think about the secondary networks that are going to round out your social media strategy:
Instagram and Pinterest are good for visual brands.
Flickr handles photographs extremely well.
Vine is for short videos.
Slideshare is the best for presentations.
Scribd manages documents better than any other platform.
StumbleUpon helps users discover new content.
Every day, new social media networks emerge. It\'s impossible to be everywhere. Prioritize where you want to be based on your customers preferences and the resources to support your efforts.
Plan Your Content
Now that you know your goal — growing your audience — and your networks, it\'s time to think about the content, e.g. the programming.
The last thing you want to do is add the same content to every network. That\'s like Comcast offering news on every channel. Their subscriber base would plummet if that is all they offered.
Each network has to have its own content. Think of your content in a couple of buckets:
Information — Content that would help your audience solve a problem or answer a question they have.
Entertainment — Content your audience would find entertaining
Opinion — Your thoughts about important issues in your industry
Visuals — Pictures, charts, infographics, etc. your audience would find interesting
Video — Could be either short or long videos
Don\'t forget the real power of social media is getting others to share your content. Always keep this in mind when planning your content.
Now let\'s work through the best networks for each bucket.
Information
Facebook, Twitter, Google+ and LinkedIn are all good for informational content. Twitter has some limitations because you can only have 140 characters to get across your headline and thought.
Make sure to customize the post for each network. Think about your local news. They may all cover the same story but not with the exact same headline or introduction.
If you want to share documents like guides or checklists, I would lean more toward Scribd. Likewise, I would go for Slideshare for presentations. Both networks handle these respective content exceptionally well.
Don\'t forget it\'s okay to share content from other people. It\'s good social karma, and your audience will appreciate you introducing them to new authors.
Entertainment
Once again, Facebook, Twitter and Google+ are good for entertaining content. I personally stay away from entertainment on LinkedIn because that is more of a professional network.
Opinion
For opinion, I would lean toward Facebook because you can write longer posts, and it\'s easier for others to like and comment.
Opinion makes good content because it\'s rarely boring. We like it when people take a stand. I caution that your stand could alienate people in your audience and cause them to stop following you.
Similarly, nobody likes people who rant frequently on social media. Use opinion judiciously and always support your opinions with fact.
Visuals
Facebook is good for sharing photographs, but Instagram and Pinterest both give it a run for its money. The best part about Pinterest is the ability to create \"boards\" with different topics. Here\'s my Pinterest board. You can see that I have boards for a few of my passion, including \"Nashville,\" \"Social Media, PR and Marketing\" and \"Art & Design.\" Pinterest users follow these individual boards. For example, more than 2,000 people follow the social media board.
I recommend Pinterest if your business is very visual, like art, photography, architecture or even food.
Video
 YouTube is the big daddy of video. It\'s a must if your business markets through video.
Vine, which is a Twitter offshoot, is limited to seven-second videos, so it\'s applications for business are somewhat limited. Vine videos have to communicate a point quickly.
Measure the Results
Never forget that you are in social media to help your business. Putting what you think is the right content in the right channels is the first step.
As is the case with any business, you will want to measure the results and adjust accordingly. 
Facebook Insights
Facebook Insights are available to anyone who is a an administrator on your business\' Facebook page.
To start, you want to watch two metrics:
The number of Likes to your page. When people like your page, your updates will appear in their timelines.
The Reach of your content. This is a measure of how many people are seeing content that you post. Your reach will grow as other share your content and you gain more of an audience.
Twitter
With Twitter, you\'ll want to watch a couple of things:
Followers are the number of people who have found you interesting and decided to follow you. They are subscribers in your audience base.
Retweets show you how many people have shared your content.
Twitter doesn\'t offer direct analytics like Facebook. You\'ll have to use a third-party website to get your data.
Google+ Analytics
The best way to measure +1\'s is through Google Analytics on your website. Here\'s where to look:
Log into to Google Analytics
Click on \"Acquisition\" in the left menu bar. A drop-down menu will open.
Find and click on the option for \"Social.\"
Click on \"Network Referrals.\" You will see Google+ if people have shared your page.
Website traffic
Google Analytics also makes it easy to track when social media networks are sending traffic to your website.
Go to your Google Analytics account. In the menu to the of the scree, click on the tab that says \"Acquisition.\" It will expand to show you some additional options. Choose \"Channels\" from the dropdown.
In the table, click on the link that called \"Social.\" You are now looking at the website traffic sent from social networks to your website.
Filed Under: Social Media